Tokenisation And The Future Of
Property Investing
Tokenisation And The Future Of
Property Investing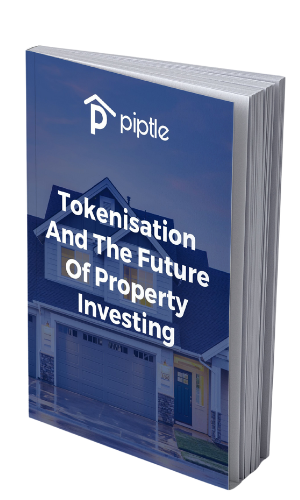 Want To Build Your Own Property Portfolio?
Buy and sell fractions of properties from multiple listings and watch your investment grow with real-time rental income payouts.
Get paid your share of net rental income across any properties you own without worrying about everyday property management headaches.
The fractions you own change in value after every annual evaluation and are tracked in your portfolio. Sell at the click of a button to capture capital gains.
As A Piptle Club Member You Will Enjoy
Property club membership and networking
Access to a range of support services
Access to our training academy
Access to
property mentors
Personalised wealth check and analysis
Earn PPTL rewards from referring members
Earn cash + crypto from referral property sales and listings
Earn PPTL and cash rewards from referring buyers + sellers to Piptle.Store
Discounted access to partnered property services
Become A Piptle Club Member Today!
Our mission at Piptle is to make property affordable and accessible to people globally and to become the #1 property club for fractional real estate. Imagine buying property all over the world. With Piptle Property Club you will be able to. 
An Accessible Way

For All Australians To Grow Wealth In The Property Market
Piptle Club Members get access to a blockchain-powered, fractional property platform that enables the selling and purchase of fractional property through our partners in just a few clicks.
Learn how to grow a diversified portfolio of assets including residential and commercial properties. Earn passive rental income and capture capital gains in a compliant and simple to use platform.
Better Property Investing With

Piptle
*Listing is for illustrative purposes only. First properties available soon.
Supercharge Your ability to purchase fractional property with our

Piptle reward token PPTL
18+ Teenagers Get Into Property Now!
18+ Teenagers Get Into Property Now!
Supporting teenagers to become property entrepreneurs.
Piptle is creating an exciting opportunity for young people to start building a property portfolio by purchasing Digital Property Access Tokens (DPATs). You can use your DPATs to earn and share in rental income.
So, parents, you can now help educate your children to learn to build a stronger financial future, through holding property tokens. All it takes is $10, $20 or $50 weekly or even monthly to create a regular rental income stream from holding property tokens.
Piptle provides an affordable pathway that's helping young people create income & wealth from property for future generations!
Why Join The Piptle Club?
PROPERTY BUYER PROTECTION
Ensuring that all buyers are protected by keeping our platform safe, secure and compliant to use is our focus. We are working with the new ASIC approved CCIV regime under an approved Corporate Director.
Every property we list is checked to ensure that it meets our high standards of compliance before it becomes available on our platform to be secured 1 sqm@ a Time™.
We use Blockchain technology to safely verify and keep track of all of projects. All of our property NFTs are created using smart contracts to ensure ongoing compliance.
Become A Piptle Club Member Today!
Our mission at Piptle is to make property affordable and accessible to people globally and to become the #1 property club for fractional real estate. Imagine buying property all over the world. With Piptle Property Club you will be able to. 
Your Top Questions

Answered
Fractional Property Investing is the process of dividing an asset into smaller pieces to allow a number of investors to mutually own a percentage of the asset.
This enables shared benefits of ownership for each investor of the Property. Each investor can earn rental income and make capital gains in proportion to the percentage of the asset owned.
You don't have to buy an entire company to earn dividends and capture increases in the company's valuation over time, you can buy fractions of a company in the form of stocks. So why can't we do the same in the property investing market?
Piptle harnesses the power of fractional investing to enable a wider range of access to the property market in a simple, secure and user friendly platform.
To answer this question we need to first understand what Blockchain technology actually does. It's common to think of Blockchain technology in terms of the digital currencies that are used within them such as Bitcoin and Ether but understanding the underlying principals of Blockchains is more relevant when discussing how Piptle uses it to enable fractional property investing.

A blockchain is simply a network of connected computers, that work together to hold a ledger of information. The information is stored in a series of blocks that are joined together as a chain. As one block fills with data, a new block is created and connected to the previous. The information held on the chain is duplicated across all computers in the network.

The connected computers ensure that the information held on the 'chain' is valid and correct by using  a process of 'cryptography' which is where we get 'cryptocurrency' from, but we don't need to get into that right now to understand how Piptle works.

For applications  to store information on the chain, we execute what is called a 'smart contract'. A smart contract is a piece of code that contains rules and instructions on how data should be modified and stored on the blockchain.

This is where Piptle comes in. For each property that we purchase and place in a legal trust, we divide these into unique fractional assets, using a core smart contract that stores all the required information about the property – how many fractions, who owns them, what the current rental rate is, and current market value amongst others.

The data recorded is transparent and very near impossible to modify, hack or delete without authorisation, making it a perfect use case for Fractional Property Investing.

If changes to the property contract are required – Let's say a fraction is sold to a new owner or the property changes in valuation, Piptle uses the smart contract to update the information on the ledger.

Through blockchain technology we can track a complete history of the property and the fractional assets within them, in a completely safe and transparent environment.